The present siutation at the corona-front will permit to hold our next family gathering (Familientag) in Lübeck on September 25, 2021. Don't miss it!
And please let me know any alteration of postal or email addresses!!
!! —————————————————————————————————— !!
Tidying up the mass of family photographs and documents keeps me busy but it is also quite rewarding with reagrd to the deepened insight into one's own origin.
If someone possesses material of interest in this field please let me know. We should communicate about the possibility of scanning of such documents.
———————————————————————————————————
After Heiner Stiebling's death—he had continuously been collecting family archivial material—nearly all of this came into my (Friedemann Hellwig's) possession. I am currently struggling to put some systematic order to it. A number of early documents escaped and found their way to the Landesbibliothek in Kiel to which friendly contacts have been established. A visit to Kiel will take place as soon as the pandemic permits.
The archiving system follows the family's history from farming in Roggenstorf in the province of Mecklenburg to their moving to Lübeck at the end of the seventeenth century/early eighteenth century. This move is combined with the change of the family's name from Bremer to Brehmer. In the sixth generation a new branch sprouts along the lower regions of the river Elbe while the majority of the Brehmers stay in Lübeck. Here Nikolaus Hinrich Brehmer, b. 1765, d. 1822, was the first to be awarded academic titles, thus founding a family tradition. His six grandsons and their descendants form the six lines in the genealogic tree and the basis of the systematic order of the archive.
———————————————————————————————————
I read from Magdalene (Ala) Brehmer's diary from 1898 to 1900 at the most recent family gathering in September 2019. As her text met with great interest I am now preparing an annotated and illustrated publication. It can go to the printer's as soon as I can get a photo of Ala's tapestry based on her prize-winning design.
———————————————————————————————————
When trying to make the genealogic data more complete there are often limits which are difficult to overcome. This refers in particular to the Line Wilhelm-Heinrich Brehmer whose descendants reside in the US. All attemps to make contact with them have failed.
———————————————————————————————————
On 10/04/2015, the Süddeutsche Zeitung on published this image of a former Brehmer factory in Leipzig. It once belonged to Hugo and August Brehmer, inventors of bookbinding machines that brought important innovations to the book trade.The impressive building has recently been restored to its earlier splendor.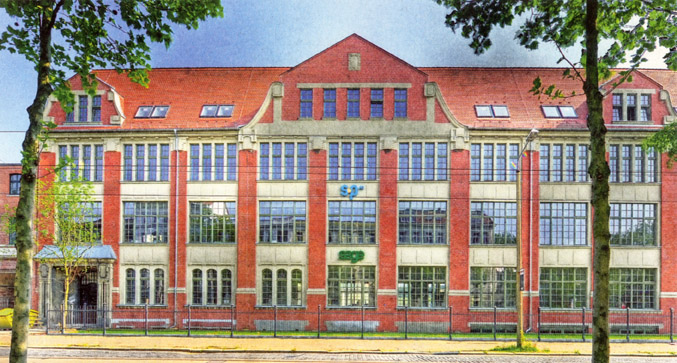 Last update 21/12/2020